1. What Is A Manufacturing Execution System?
A manufacturing execution system, also known as an MES, is an innovative, interactive software that manufacturers use to gain insight into their processes on the plant floor. The software delivers real-time visibility into shop floor data, allowing decision-makers to take instant action and make changes inside their facilities to maximize efficiency and, in turn, profits.
With the advancement of MES software, manufacturers are able to deploy digital information systems that connect, monitor, and manage complex manufacturing systems and data flows on the factory floor. With high-performing software and sensors, an MES eliminates the need for manual data entry and replaces it with automation and real-time insights.
The goals of an MES are to ensure effective execution of manufacturing operations, improve productivity and measure and ensure quality. An MES collects and provides data for use by manufacturing, quality control, management, accounting, and financial systems. With this key information about the manufacturing process and Overall Equipment Efficiency (OEE) of the equipment being monitored, manufacturers are able to get accurate data on all aspects of the manufacturing process to allow for better, faster decision-making and improved OEE.
As a configurable platform, MES is useful across nearly every segment of the manufacturing industry including automotive, aerospace, electronics, food and beverage, metals, and more. Still not sure how MES applies to the manufacturing process? Let's dive in deeper.
The Application Processing Unit is a server that combines a CPU and GPU into one machine. It's the power behind the MES operation, housing the database and doing the heavy lifting required for leveraging big data.
The Data Collection Module is a tool that connects to your plant's machines through direct analog, digital, serial signals or a number of other supported machine interfaces to send data back and forth to the APU.
Enterprise Resource Planning systems act as a central database for organizations by centralizing data from a number of departments including accounting, manufacturing, procurement, supply chain, sales, marketing, operations, and human resources. With these processes in a single location, business leaders can make more informed decisions.
A Human Machine Interface is any machine that displays data from an MES for operators to act on. An HMI can be an industrial touch screen device or tablet, or a PC that displays the software so operators can glean insights via process reports or take actions such entering downtime, rejects, or to interact with a job scheduling module.
Overall Equipment Efficiency is how manufacturers measure the effectiveness of manufacturing processes. This takes into account the availability of the machines, the performance (or speed) of the machines, and the quality of the parts. With an MES, manufacturers are able to gain insights into their processes to maximize OEE.
2. The Difference Between Production & Process Monitoring
Production and Process Monitoring are two different, yet interconnected manufacturing processes that provide insight into plant floor operations and help leaders maximize the efficiency of their processes. These tools can be used separately or combined together for maximum insight utilizing the same software and hardware.
Production monitoring platforms are developed for specific monitoring capabilities including OEE tracking, real-time production summary, cycle time, reject percentage, downtime tracking, email/text alerts, job setup sheets, enhanced drag and drop scheduling, customizable charts/reports/dashboards, and ERP integration. Virtually all production monitoring involves or uses two fundamental pieces of data — number of parts and time — to report on the progress and performance of a job.
In essence, Production Monitoring automates and provides both real-time and historical data on many of the manufacturing processes that once were done with pen and paper.
Job Schedulers
Real-Time Dashboards
Job Summary
Downtime and Scrap Reporting
Job Shift Summary
Instant Alerts
Production Summary
Defect Collection
Job Setup Sheets
Labor Tracking
Customizable Charts and Reporting
Material and Tool Life Tracking
User/Operator Recorded Action Events
Family Molding
Process Monitoring software can be used for real-time Statistical Process Control and captures measurement and process data from all machines on the floor by integrating DCMs with your machines. Data can be collected across all shifts and individual machines can be isolated to enhance peak performance. Quality process monitoring solutions collect data for most any process variable parameter—cycle time, fill time, hold time, charge time, injection start pressure, maximum injection pressure, take-out time, switch-over position, cushion position, screw speed, barrel zone temperatures, feed throat temperature, nozzle temperature, chiller return temperature and thermolator supply temperatures are common examples.
While Production Monitoring is about parts and time, Process Monitoring provides process control insights not possible without integrated hardware. This data helps manufacturers streamline their processes and deliver quality products efficiently.
Machine/Tool Cycles
Good/Bad Part Counts
Uptime/Downtime
SPC Analysis
Cycle Time
Fill Time
Charge Time
Hold Time
Screw Speed
Barrel Zone Temperatures
Cushion Position
Injection Pressure & many more process variables
3. How Does An MES Work?
The setup of an MES depends on whether you are looking for production monitoring, process monitoring, or both. With production monitoring, a Data Collection Module is used to send a direct signal from the machine to the DCM via isolation relay. Process monitoring has additional variables and the connection is dependent on the make, model, and controls of the machine. The most common types of connectivity are machine protocol interface via a factory network or direct wire from the machine control cabinet to the DCM, though the connection can be accomplished in a number of ways, including: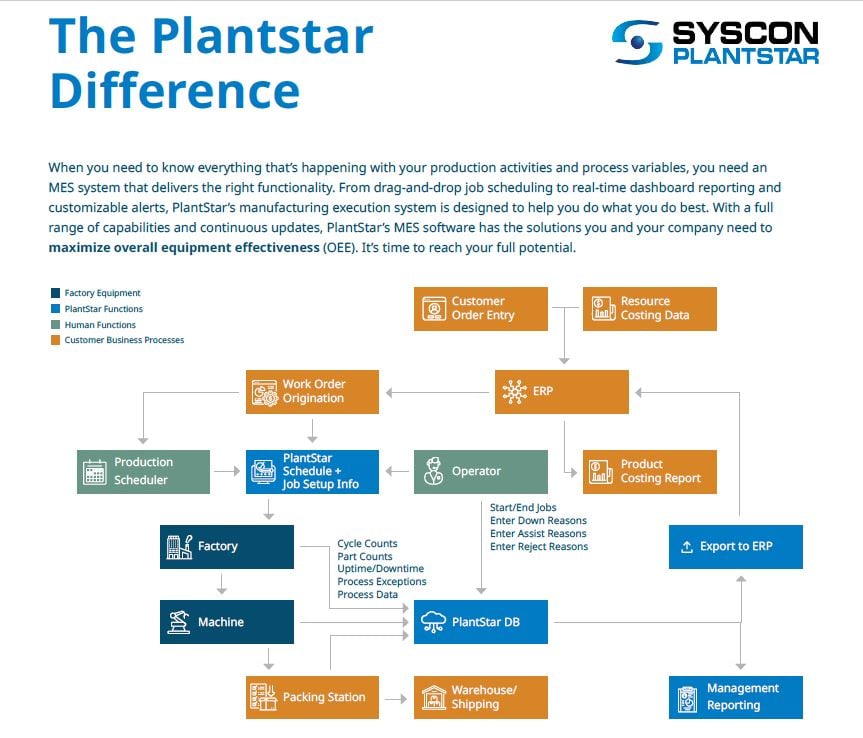 PLC Integration

Ethernet or wireless connections

Digital inputs and outputs through sensors wired into machinery

Analog signals from legacy equipment

Utilize machine interface protocols for process monitoring
When determining what MES is the best fit for your situation, it's important to know that many MES solution providers can't connect their software to older, non-digital machines.
4. Key Features Of An MES
Since an MES helps you manage your shop-floor manufacturing operations, as well as reporting on production line activities in real-time, you have complete control over your process. These real-time insights allow you to control every aspect of your shop floor including inventory, machines and equipment and your people. Together, you can ensure your machines are operating at maximum efficiency and reduce labor costs — all leading to improved ROI.
Here's a closer look at the core functions of an MES.
Collect valuable information on your production lines so you can improve your manufacturing processes. With insights such as downtime, defective parts, job scheduling and more, you can make adjustments to maximize OEE. An MES can display real-time key performance indicators (KPIs) on manufacturing dashboards throughout your facility so your people can have real-time feedback.
Getting the most out of your people is critical in the manufacturing industry, and an MES offers a number of features to allow you to manage your staff and even equipment from the shop floor to maximize their utility. Custom job setup sheets can include training videos, documents, part images to help employees perform at their best, and labor tracking can forecast labor hours by machine, job, shift, or employee so shifts are efficiently staffed.
Import work orders and job scheduling information from your ERP, including materials and tool data if desired. View and modify production scheduling information on-the-fly, view reports and export end-of-shift summaries back to ERP, allowing decision-makers to easily track production progress and see the status of operations in real-time. Track materials usage and plan tool maintenance events based on empirical data from your shop floor.
Measure key process variables, like temperature and pressure, in real-time against critical thresholds. Automatically alert operations personnel and reject parts and/or shut down production when the process goes out of tolerance to eliminate production variations and enhance product quality.
Visualize the entire production process, gaining insight into areas where productivity is lagging expectations. View your OEE by every machine in your factory on a dashboard that can be viewed from any device. Monitor every shot of the machine and view real-time process summary. Set up your product standards to automatically set thresholds specific to each job. Create email and text alerts to quickly notify key personnel when a process tolerance is exceeded from lower or upper limits or create an overlay profile to easily visualize exceptions.
By tracking machine and tool usage, including operation time, time since last overhaul, and number of cycles, you can stay on top of maintenance. With job scheduling, you can also plan ahead to perform maintenance at an optimal time, keeping a log of what maintenance occurred and when, and on what tool.
Employees sometimes experience downtime on the shop floor, and MES software offers access to saved documents, training videos, part images, and more right from an HMI.
Operating efficiently is all about having a total view of your operations. With an MES, you can see all interactions from the shop floor, including when operators are logged in and out of certain work areas within your factory.
The list of MES core functions go on and on. Other important features to be aware of include: Tool life tracking, labor tracking, label printing, job scheduling, ERP integration, material tracking, label printing and the ability to create a variety of custom reporting.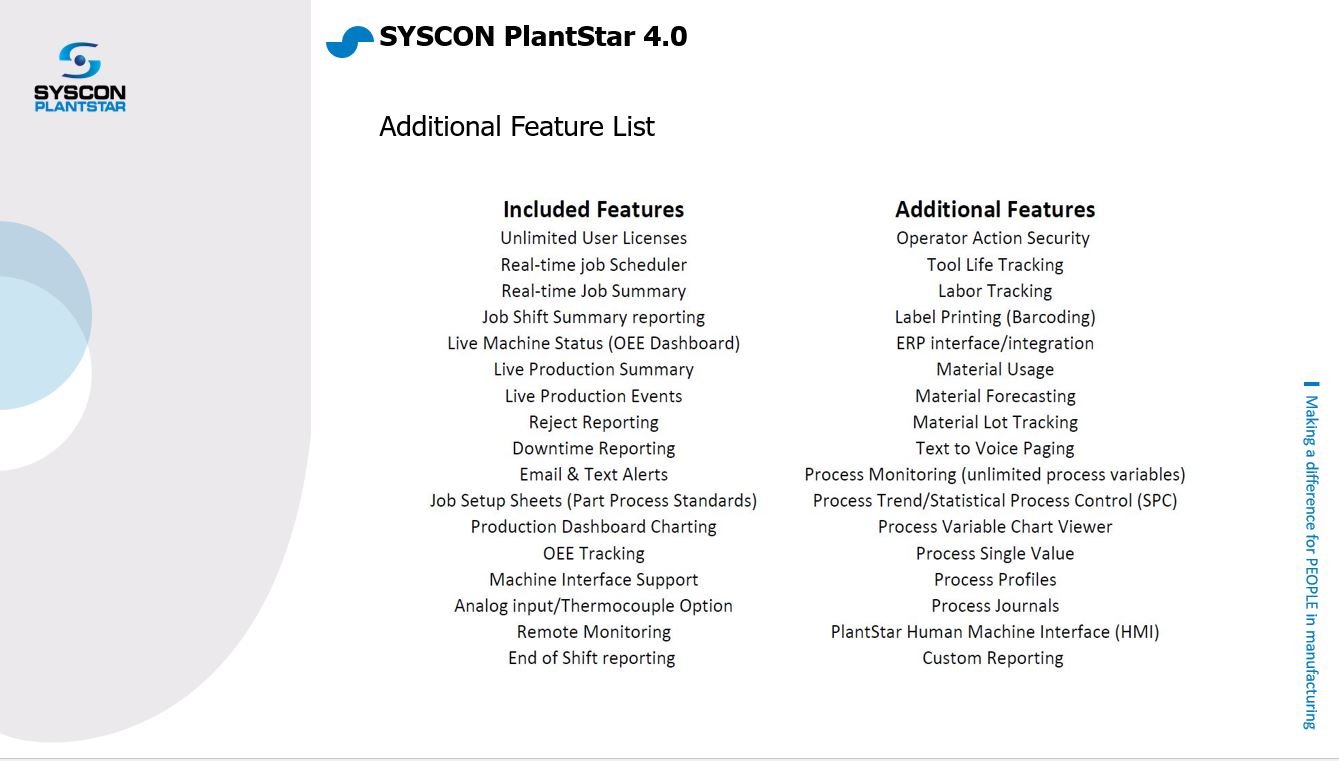 1

Improves the Availability of Shop Floor Information

With an MES, your people don't have to wait to check in on machine performance. Dashboards can be placed around the plant floor to provide real-time data, and an online interface allows plant managers to access data and make decisions remotely.

2

Decreases Machine Downtime

Nothing is more critical in the manufacturing industry than having your machines up and running. An MES helps decrease the amount of machine downtime by allowing for job and maintenance scheduling. Plus, with process data you can spot potential issues with machines before they become a bigger problem.

3

Lowers Cost

The entire purpose of an MES is to help your manufacturing process operate more efficiently. In the end, that means lower costs and higher quality. Job scheduling and labor tracking allow you to stay on top of your workforce costs while process data can provide insight into bad parts to allow you to cut down on waste and operate more efficiently.

4

Consolidates Data for Better Decision-Making

With reports including job scheduling, defect collection, machine/tool cycles and more, manufacturers are able to evaluate machine performance in real-time and in one place. These insights help you make better informed decisions on labor allocation, machining and tooling costs, and supply chain to clear out inventory and order new materials.

5

Reduces Reliance on Paperwork and Spreadsheets

Working with manual spreadsheets is cumbersome. Since spreadsheets are static and don't update automatically, they are instantly out of date and are prone to human mistakes. An MES automates the process of data collection and makes acting on that information instantaneous so your people can make decisions in real time.
6. How an MES Integrates with an ERP
ERP systems and MES software can work together to provide businesses the very best insight into both front office and manufacturing processes. While ERP systems manage the front side of the business such as financials, inventory, and customer demand information an MES manages the shop floor side of the business by monitoring and reporting on manufacturing.
If you have an ERP system in place, an MES extends the value of the ERP by providing real-time visibility to production order status and scheduling. This provides better business decision support, planning, and collaboration across the organization. If you have spent a great deal of money on an ERP system, why not leverage the benefits and investment in that ERP by supplementing it with a world-class MES solution?
Nearly every installation that PlantStar completes has an integration between a customer's ERP and MES. When the integration is set up, we typically import job setup information, and sometimes scheduling information, from the customer's ERP and export product data back to the ERP at the end of every day/shift.
7. Customer Support and System Monitoring
Manufacturing customers understand that change is a constant feature of their business. MES systems must be consistently updated, adjusted, and enhanced to meet increased customer expectations. MES vendors must provide exceptional service and support, including experience and industry knowledge to advise customers on adapting their system to new requirements and applications.
The best MES does you no good if it's not running when you need it. To maximize manufacturing efficiency, customers need to minimize IT support. The best MES vendors provide solutions that include robust remote monitoring and management to proactively identify operational issues, often before customers recognize there is a problem.
8. Choosing the Right MES
Integrating an MES into your manufacturing setup and process is an investment. When done right, an MES can lead to notable ROI. Customers who have installed SYSCON PlantStar in their facilities have seen an average increase in productivity (OEE) of 30%. On average for PlantStar customers, every 1% improvement in OEE is worth approximately $50k per year.
But seeing those returns is all about finding the right fit. What should you know when choosing an MES for your factory?
Find an MES that can integrate and scale with your existing equipment or systems

Choose an MES that provides the data points critical to your business

Pick an MES that has a record of delivering OEE

Select an MES with user-friendly and robust dashboards and reports with a vendor that has extensive experience and machine interface capabilities.

Choose a vendor that provides robust support and remote management to keep your MES up-to-date and running effectively.
9. The Future of MES and Industry 4.0
The manufacturing industry has come a long way from collecting data with clipboards and pens to spreadsheets and now robust MES software. While reporting on manufacturing processes has come a long way with current MES solutions, the future will only bring more advancement.
All eyes today are on Industry 4.0, which refers to the next wave of industrial revolution. As we have all become more connected, the interconnectivity of devices has ushered in new possibilities and delivered a vast amount of computer power. This push will bring with it high-speed wireless capabilities through cloud computing and streamlined processes.
What will that mean for MES? Decision-makers will have real-time process data at their fingertips to make instant decisions across locations.